FARMCONNECT
AI analysis system
based on big data
Offers the analysis information for each greenhouse by one on one customized algorithm and AI technology.
Not only the real-time information, but with the 24 hour forecasting,
farmers can use forecasting data to prevent the issues of crops and increase production.
AI-based Environment & Growth Analysis and Forecasting
Today's first ventilation time is AM 07:10

You may advance time by 20 minutes of ventilation in AM 06:00

Total adequate time is 5 hour.

Fog system recommended from PM 01:00 (to control humidity)
Sun screen recommended from PM 03:00

Today's first watering time is AM 08:05

Transpiration would be active to PM 01:00

You've chose Generative growth this week.
Please select next week's growth.

Flower, Fruit / Leaf, Stem

Estimated harvest date is 24th of May.
Average of 20g estimated in 1 cluster.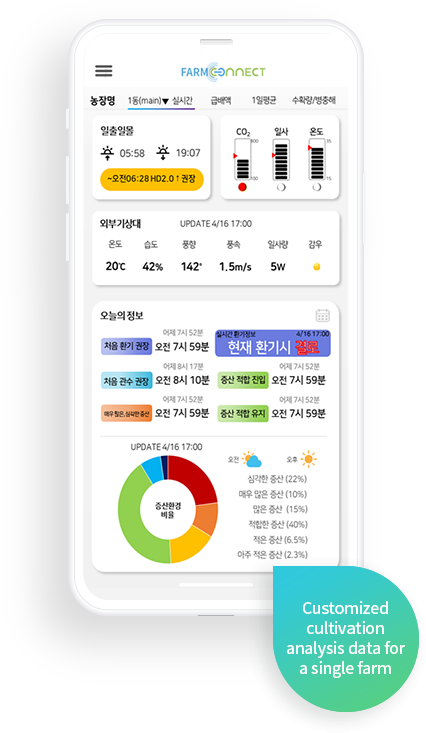 We visited farms every week, total
2,000 times
for 3 years
FARMCONNECT listens the voice of farmers and figures out what they need and why they're in trouble.
Demonstration Data
Tested only with agricultural data analysis, without investing greenhouse facilities.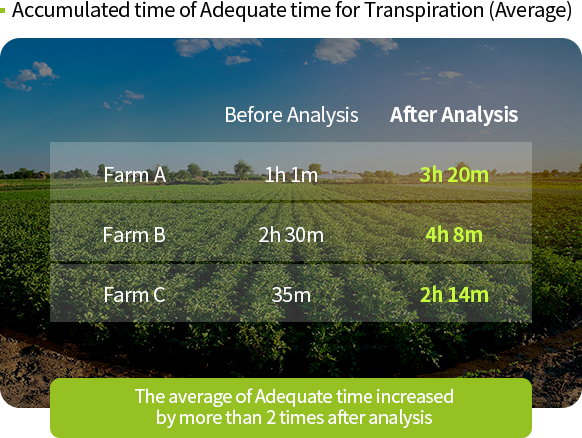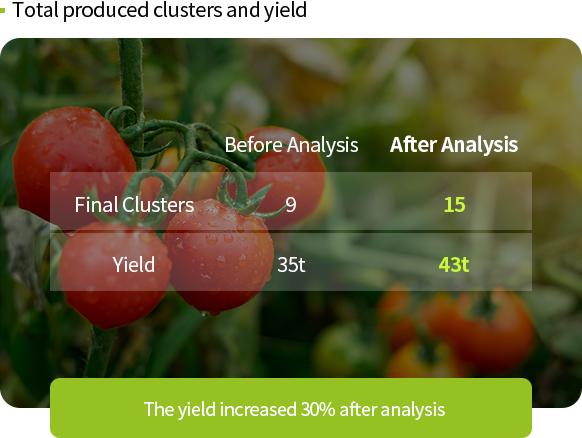 The service could be
*
applied to
**
most of crops & varieties, no matter the facilities
The condition of crops was improved and the yield increased more than 20%
*
Analysis based on common photosynthesis & transpiration of crops
**
Available both outdated greenhouses and smartfarms
History
2022
01
Smarfarm management business in Taean
2021
03
Pilot project at greenhouse of the Ministry of Agriculture of Azerbaijan
06
Reported to the Minister of Agriculture of Azerbaijan, MOU signed with the Ministry
08
Analyzed best case farms among 200 farms located in 160 regions
(Service requested by Rural Development Administration of South Korea)
09
MOU signed with Chinese horticulture company Zhongnong Futong
11
MOU signed with Naru Agriculture Consulting
12
MOU signed with Chinese sensor company StringAI
2020
01
Won the contract supplying Smartfarm network hardwares to Cheongyang
04
Education program for smart farming instructors
(Service requested by Rural Development Administration of South Korea)
05
Won the contract of Gwangju for establishing Smartfarm Control Center
06
Partnership with Spanish Sensor company ARGOTEC
08
Investment from ETRI & ETRI Holdings
08
Verified as venture company, established R&D Institute
10
Registered as ETRI Research Company (no.1030)
10
Exclusive Business Partnership with Azerbaijani company TrendTech
2019
04
FARMCONNECT established
05
MOU with sensor company providing sensors to 1,000 farms
09
Won the contract of Cheongyang for establishing Smartfarm Control Center
Partners